Join us on an upcoming Mission Trip!
"But you will receive power when the Holy Spirit has come upon you, and you will be my witnesses in Jerusalem and in all Judea and Samaria, and to the end of the earth." - Acts 8:1 ESV
Learn about the upcoming Mission Trips through The Fellowship Church below!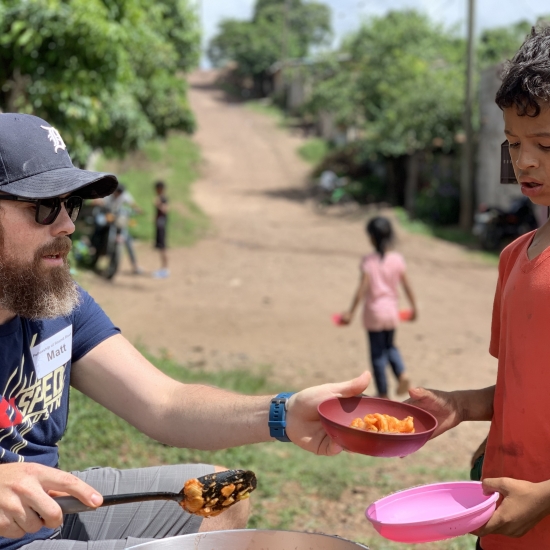 Honduras Mission Trip - June 2023
Be a part of the next mission trip to Tegucigalpa, Honduras from Sunday, June 11th to Saturday, June 17th. During this short 6-day international mission trip you will help build a house, distribute 5,000 lbs. of food door-to-door with an invitation to the local church, lead children's Bible studies, assist with men's and women's devotionals, and support the bilingual Christian school. Christ's love will be on full display while sharing the gospel to the people of Honduras and playing with the kids in the streets.

Space is limited to 16 spots. Final registration is needed by May 19th.
Interested? Click here!
Frequently Asked Questions
When is the Honduras mission trip?
This mission trip is from Sunday, June 11th to Saturday, June 17th.
How much is the Honduras mission trip?
All lodging, meals, and transportation is $850 plus the cost of flights. We've seen flights as low as $600 and as high as $1,000. Based on history, budgeting an additional $850 for flights is estimated. In total, the estimate would be about $1700.
When does my passport need to be valid for?
Your passport must be valid post return date by 6 months

Are vaccinations required?
Vaccinations are not necessary. If you want, you can have a tetanus because we will be building a house.
Where will be lodging?
We will be staying at Ron and Shelley's house. It's similar to a bed and breakfast and incredibility nice.
What projects will we be doing?
We will have two projects we will do as a team. We build a house in 3 days. It's simple construction and then we will dedicate the house at the end of the week.
We also pass out about 5,000 pounds of rice, corn and beans door to door in one of the adjacent colonias.
We will also deliver a daily devotional, a craft with the pre-K school, work and assist in the bi-lingual school, play in the streets, and give devotionals.