The Heart of Serving
Out of our overflow of love and worship to God, we commit to serving with the local church. We believe that God loves the local church (Eph. 5:25-27) and that He will use the church to reach people for Jesus and help them grow to be more like Him. We take this charge seriously. It is out of reverence and respect to God that we contribute to the cause of positively affecting someone's experience in the church. No matter the task, it is our heart to fill the needs of the church in order to lift high the name of Jesus in our own personal worship and as part of The Fellowship body.
The Second Sunday of every month after first service is our Serve Class. This is where you learn where you can use your gifts for the building of God's local church.

We love God, we love His Church and we love His people.
God is love and because we love Him, we show that same love to others, just like Jesus.
"This is how God showed his love among us: He sent his one and only Son into the world that we might live through him. This is love: not that we loved God, but that he loved us and sent his Son as an atoning sacrifice for our sins. Dear friends, since God so loved us, we also ought to love one another." — 1 John 4:9-11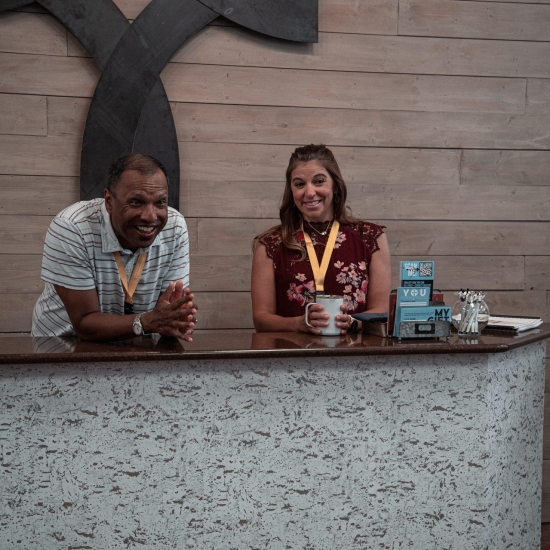 Biblical Servanthood
We look at Jesus' model for us as a kingly servant of men. Jesus is showing His love to ALL of His disciples in this act...even the one who would betray Him. This task was only reserved for non-jewish slaves in a time and culture where people had to walk long distances in dust and dirt. Jesus took a humble posture without hesitation in order to fully love and serve people.
This is our heart in serving - to imitate Christ's example of humility and love in our serving the church body.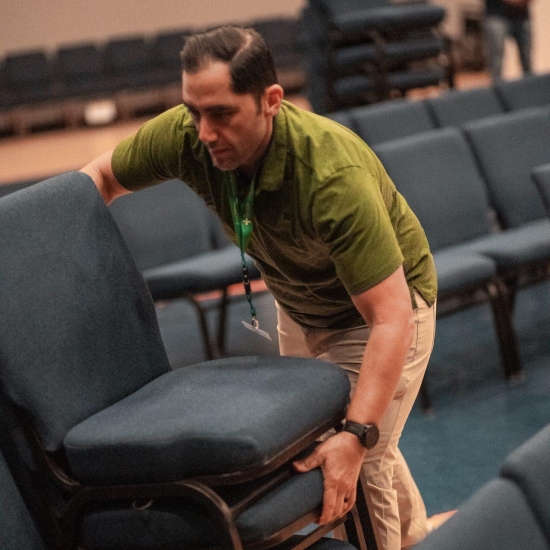 God is brought glory through our gifts
God has given you gifts that should be used to bring Him glory. For example, let's say you have the gift of hospitality. Through your serving on the Info Team, you could take part in helping people feel welcome and comfortable in God's church.
Serving the church is not the only way to bring God glory with your gifts, however. There are needs that arise in the church that will fit your gifts.
Frequently Asked Questions
When is the Serve Class?
The second Sunday of every month after first service is our Serve Class. This is where you learn where you can use your gifts for the building of God's local church. Click here to sign up for Serve Fellowship.

📍 Round Rock Campus | 11 AM in the main office
📍Hutto Campus | 11 AM in room 29
📍Taylor Campus | 11 AM
Not sure where to go? Visit the Info Booth in the foyer.
In what areas may I serve?
Every ministry has a need for people to serve. Here a few examples:
- Guest Services
- Facilities
- Info Team
- Parking Team
- KiDS Ministry Teachers
- Concierge Team
- Cleaning Team
- Cafe Team
- Offering/Counting Team
- Ushering
- Chair Team
- Group Leaders
- Tender Hearts
- Stephen Ministry
- GriefShare
- Small Group Leaders
- Production/Photography
- Welcome/Hospitality
- Event Support (Seasonal)
- Prayer Team Members
- Worship Ministry
- Musicians/Singers
- Production Team
- Photographers/Videographers
- Set Builders
- Floaters
- Preschool/Elementary Large Group Help
- Resource Bin Lead
- Team Lead/Hall-Runner
- Check-In
- Writers
- Graphic Designers
What are The Fellowship's core beliefs?
The Fellowship's unity flows from a living faith and an abiding message. This faith and message is grounded in Scripture, which is God's Word to us. Click here to learn more.
Attend Our Next Serve Class
Sign Up